CAMPBELL RIVER FALL
GUIDED SPORTFISHING
September & October
Guided Fishing
Campbell River is centrally located on the east side of Vancouver Island. Known as the Salmon Capital of the world the waters surrounding Campbell River include Discovery Passage, Georgia Strait and Johnstone Strait, funnel all 5 Species of Salmon thru as they migrate towards their spawning grounds. The waters typically are very sheltered and protected from ocean swell by Vancouver Island on its west.
During the months of September and October High Seas Outfitters has ended our Northern season and brought our Mothership the High Seas Drifter and our guide boats back to their home in Discovery Harbour Marine nestled right in the center of town close to all the amenities. This is a great opportunity to come and fish in our incredible boats and experience the work ethic and professionalism we are known for. We are please to offer Half Day, Full Day or Multi Day Fishing Charters with options for B&B Lodging on the High Seas Drifter upon request.
Fully Guided Sportfishing
Campbell River
Guided Fishing
Half day, full day or multi day fishing charters with options for B&B Lodging on the High Seas Drifter during September and October.
$150/ Hour (1 to 4 Guests)
$170/Hour

 ( 5 Guests)
**5 Hours Minimum: prices do not include 5% GST tax, Saltwater fishing license, lunch and snacks, spirits, gratuities, fish shipping, lodging. $300 non- refundable deposit is required to hold and secure dates. Please contact us for lodging options and trip date availabilities.
***Fuel Surcharge:  Due to unforeseen World events, if fuel is above $1.70/litre dockside, we may need to add a fuel surcharge.
EPIC SALMON FISHING. "FISH ON!"
CAMPBELL RIVER SPORTFISHING PACKAGES
What do the High Seas Outfitters Campbell River Packages include?
Half Day (5 hours min) / Full Day Charters (8-10 hours)
Multi Day Charters
Groups of 1-5 guests
Transport Canada approved guides and vessels
Fully Guided
Beautiful 28 ft Guide Boats complete with heaters and private marine toilet
Premium Fishing Gear/Bait/Tackle. Mooching rods with Islander reels
Fish Cleaning and bagging
Rain Gear
Wildlife Viewing
Water and Soft Drinks
Pickup and Drop off @ Discovery Harbour Marina, Campbell River, BC
STAY ON THE HIGH SEAS DRIFTER
High Seas Outfitters – The Reviews!
We had a great time. Thank you Spike, Leif and Rick. Great food, fishing, scenery and friends! Started out with 3 crab traps filled with the biggest crabs I've ever seen! We caught our limit of Coho Salmon, Halibut and Ling Cod. Happy memories, definitely recommend High Seas Outfitters!
We travelled with High Seas Outfitters in the Douglas Channel in mid August 2021. We could not have asked for a better trip. Spike's enthusiasm, professionalism and knowledge of fishing made the days very successful.  It was so nice to have the High Seas Drifter come into sight and be welcomed by Leif and Rick. Leif and Rick could not have been better company. They were friendly, professional and we enjoyed all their tales that were told. Leif's cooking was extremely tasty and delicious! All three did a first class job and I wouldn't hesitate to recommend High Seas Outfitters!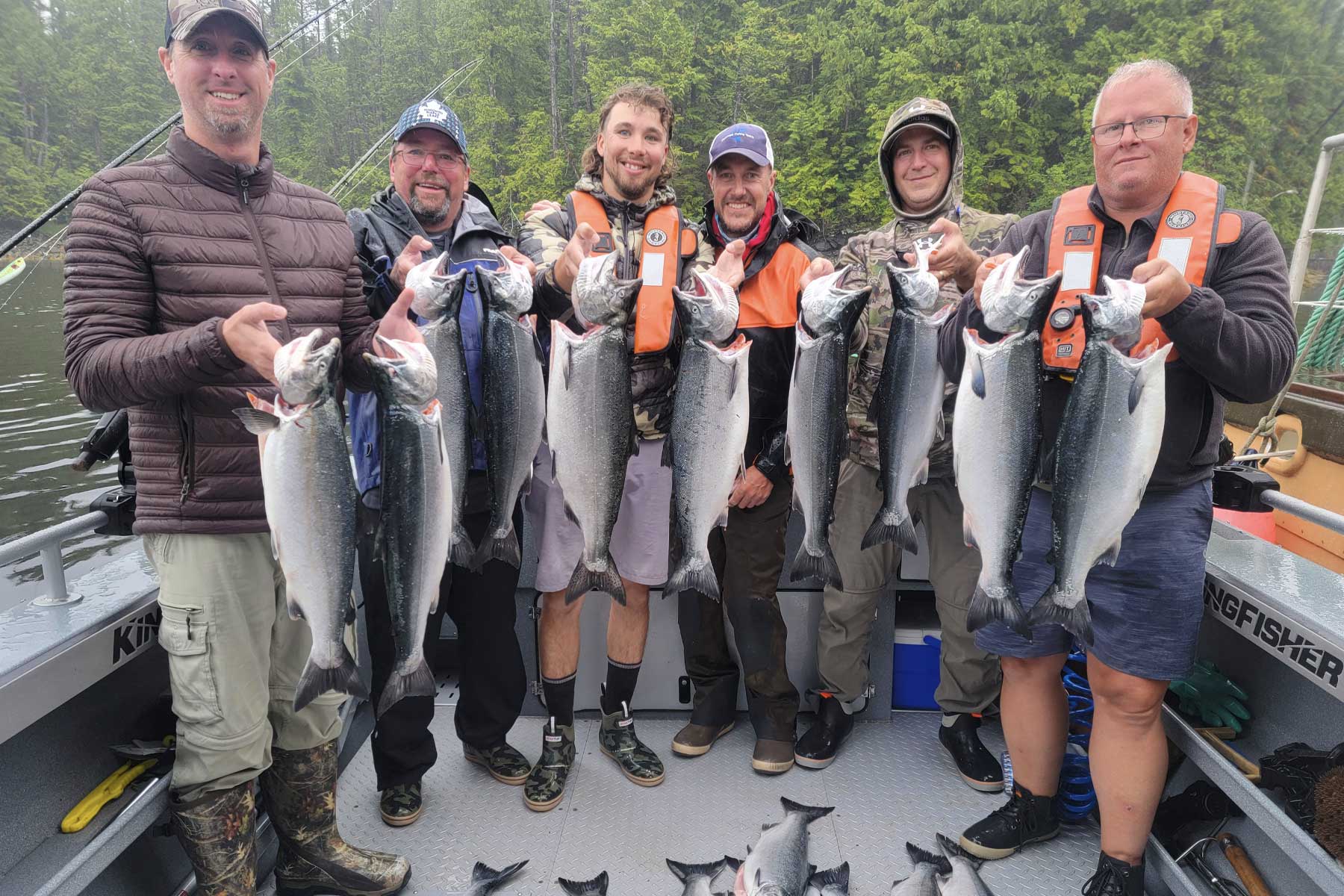 Ready to fish? Give us a call!
We'd love to hear from you. We are a family owned operation specializing in going the extra mile to see that our guests and clients receive a trip of their lifetime! We are also very aware of the many Coastal Indigenous Peoples whose waters we travel through in their traditional territories and pledge to operate with respect wherever we go. Welcome!